Galleries to Feature Tables
Galleries will feature artist's tables by Lawrence Kinney.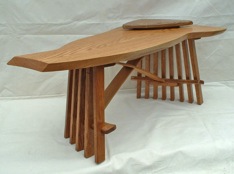 "Multi-Leg Coffee Table with Legs" by Lawrence Kinney
among those featured at Portage Hill Gallery


Lawrence Kinney has produced a line of artist's tables that will be featured in online and regional galleries. The tables, which reflect Kinney's passion for wood sculpture, are crafted from unique combinations of exotic and known woods. Many of the tables bear an organic quality, as evidenced by their rounded, flowing shapes.

Kinney's tables have been featured in Western New York galleries, including the Point of View gallery, in Williamsville, N.Y. and Portage Hill Gallery, in Chautauqua, N.Y.

Currently, Kinney's tables can be found at:
Portage Hill Gallery


Visit our online gallery to view tables.